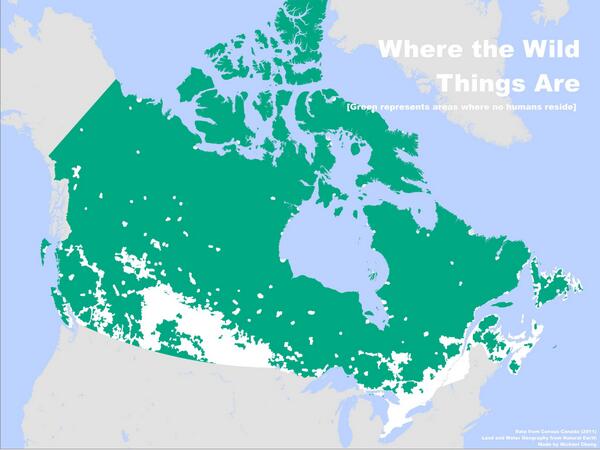 Via
Amazing Maps
on Twitter. The green space shows all the space in Canada not currently inhabited by humans. (I was about to protest, "Surely someone lives on Baffin Island," but looking closely I think there are some white bits for Iqauluit and Kingnait and such.)
H/T
The Dish
, which also shows
a fair amount of green
in the United States.
Update, April 21
: Russ Chamberlayne writes:
The map of Canada below [above - ed.] relates to the "Where the Wild Things Are" map by spotlighting the inter-penetration of wilderness and settlement -- the areas where "wild things" and agriculture are likely to cohabitate.


The map shows "wildlife habitat capacity on the agricultural landscape" (though woodlands and wetlands are included as landscapes). The capacity scale next to the map reflects the percentage of several hundred vertebrate wildlife species assessed that can "use and value" various land-cover types.
A more subtle image of (potential) wildlife habitat emerges than is revealed in the simple green-white dichotomy of the "Where the Wild Things Are" map.


The existence of better habitat in human-inhabited regions of central and eastern Canada results, according to the text accompanying the map, from the cultivation of less intensive crops, "natural" land cover, and pasture. The areas of very high habitat capacity in the Maritimes and Quebec contrast sharply with the extensively and intensively cropped regions of southwestern Ontario and the Prairies.