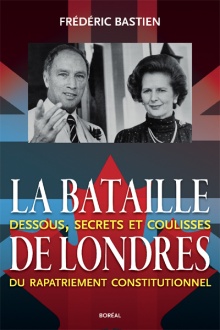 [This post is updated/corrected below]
Not bad – a new history book out, and Fréderic Bastien has a unanimous resolution of the Assemblée Nationale and a Supreme Court of Canada investigation to show for it.
As you may have seen, Bastien's La Bataille de Londres presents evidence, mostly from British sources, that in 1981 judges of the Supreme Court of Canada, particularly Chief Justice Bora Laskin, gossiped with politicians and public servants about the Patriation Reference while it was still sub judice. Professor Bastien, who teaches at Dawson College in Montreal, argues that this breach of the separation of executive and judiciary invalidates the whole process by which the constitution was amended and patriated.
From the first, I wondered what Philip Girard's take on this might be. Professor Girard, lawyer and historian at Dalhousie and former Supreme Court clerk, is the author of an excellent 2005 biography Bora Laskin: Bringing Law To Life. Well, now we know what he thinks, because Le Devoir had the good sense to ask him.
Girard's take is that, well, it was "extremely imprudent" but not that serious and not that surprising. Laskin and Justice Estey, he proposes, breached no vital barriers in their chats with diplomats and politicians. He questions Bastien's conclusions but not his evidence that it happened, and indeed his biography gives some supporting evidence. In the biography, Girard describes Laskin at a legal conference where senior lawyers and politicians were to discuss the patriation reference, still undecided by the court – and Laskin had to be convinced his presence at the session would be inappropriate.
Our national newspapers do not seem much interested in this story, (
But
Everyday History
has been
on the story
.) I
t's otherwise in
le journal national
.
Le Devoir
has printed both Girard's opinion and
a response by
Bastien, and much commentary besides.
Girard argues effectively that Bastien's evidence hardly sustains his charge that this constituted a "coup d'etat" at the Supreme Court, one that invalidates the constitution itself. But it strikes me as serious, and the Supreme Court should be investigating. The reputation of the Supreme Court and of Bora Laskin are tainted by this kind of imprudent chat between judges and the politicians who were strategizing about the consequences of a case actually before the court. We are entitled to know: could similar things happen in the McLachlin Court if a case of equivalent political heft were suddenly put before it?
In 1981 Chief Justice Bora Laskin was head, by virtue of his office, of the Canadian Judicial Council, the only agency with the authority to discipline judges for unprofessional conduct. Discussion of possible improprieties by a former chief justice might oblige the Supreme Court to return to the question: quis custodiet ipsos custodies?
The Bataille de Londres is history. The Battle of Laskin may still to be written.

Update/Correction, May 2: Philip Girard has let me know that Le Devoir did not approach him regarding his commentary. He approached them -- after The Globe and Mail showed no interest when he offered it to them.

He also reports U of T Press will soon issue a paperback of his Bora Laskin: Bringing Law to Life with a new preface addressing this topic.