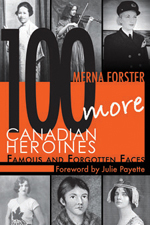 Merna Foster sends a note:
Hi Christopher, it's time to celebrate Women's History Month in Canada!



Did you know that Joan Bamford Fletcher, often called the heroine of Sumatra, led a daring rescue of 2,000 prisoners after the Second World War? She commanded a force of machine-gun toting Japanese soldiers in the jungles of Sumatra.


-Did you know that two teenage girls helped save Toronto when it was being threatened by armed rebels during the 1837 Rebellion?


-Did you know that Dr. Leone Farrell developed the innovative laboratory technique that enabled mass production of the polio vaccine – without which there could have been no way to develop enough of the vaccine for testing?


- Did you know that the woman behind the creation of the Alpine Club of Canada never climbed a mountain?


-Did you know that the first chief commissioner of the Girl Guides of Canada was Lady Pellatt (of Casa Loma)? She was so dedicated to the movement that she was buried in her Girl Guide uniform.


-Did you now that Fern Blodgett was the first Canadian woman to become a wireless radio operator, and the first to serve at sea with the merchant marines during the Second World War? Since females were forbidden from serving on Canadian ships, she landed a job on a Norwegian Merchant Navy vessel. It made 98 crossings of the Atlantic during the war, most of them with Fern in charge of radio communications.


- Did you know that the woman who spearheaded the building of Canada's first mosque was Hilwie Hamdon? The Al Rashid Mosque opened its doors in Edmonton in 1938.





More in my latest book – 100 More Canadian Heroines: Famous and Forgotten Faces.


http://www.heroines.ca/about/100morecanadianheroines.html




Merna Forster


http://www.facebook.com/MernaForsterAuthor
Um, I'd have to say no to all seven, Merna.